You are here

Risk Management
Risk Management
You have worked hard to build your tribal enterprises and assets, but without proper planning and insurance, an unexpected event could destroy them, endangering everything your Tribe has been working so hard to achieve. You should be confident that you have done all you can to protect it.

Our team of insurance experts is dedicated to successfully protecting your tribal enterprises and assets. We start with a risk management audit to identify your needs, we get to know your culture and enterprises, and we work with the integrated advisory team to provide you with the best information, advice, and solutions to protect your enterprises, your employees, your customers and your Tribe.

We assist Tribes in effectively managing their total cost of risk. By quantifying risk in an operationally relevant metric, we are well positioned to manage results rather than simply monitor an insurance expense. Capital efficiency is paramount given today's credit market and political climate, and we believe its time you started actively managing your risk.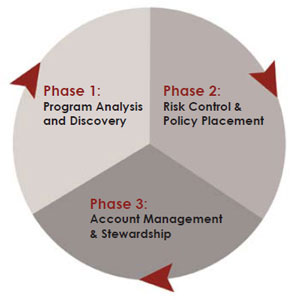 Program Analysis & Discovery
As Tribes revenue streams continue to evolve beyond gaming so do their risk profiles. Initial interaction with clients typically include: policy audits, catastrophe modeling, loss stratification, and peer benchmarking.

Risk Control & Policy Placement
Our approach is predicated on transparency, as such, clients have access to all program submissions, detailed marketing summaries, risk control reports.

Account Management & Stewardship
Our clients benefit from our high-touch approach and will continue to have direct access to our team throughout the year. The regular support offerings that we provide include contract review, premium allocation by entity, and certificate issuance.

Captive Insurance Services
The formation of a tribally-owned captive insurance company can provide tribes with tremendous
flexibility in program design, direct access to reinsurance and generational wealth transfer benefits.
Under a captive program, underwriting profits and investment income from premiums are returned to the participants or sponsors.

Owner Controlled Insurance Programs (OCIP)
OCIP's have won growing popularity with construction project owners during the last two decades due to the OCIP's ability to reduce losses and ultimately lower the cost of construction insurance. OCIP's provide broad and consistent coverage specific to job or project that is controlled by owner which ensures that all contractors are insured and you will have direct control over the loss control program.